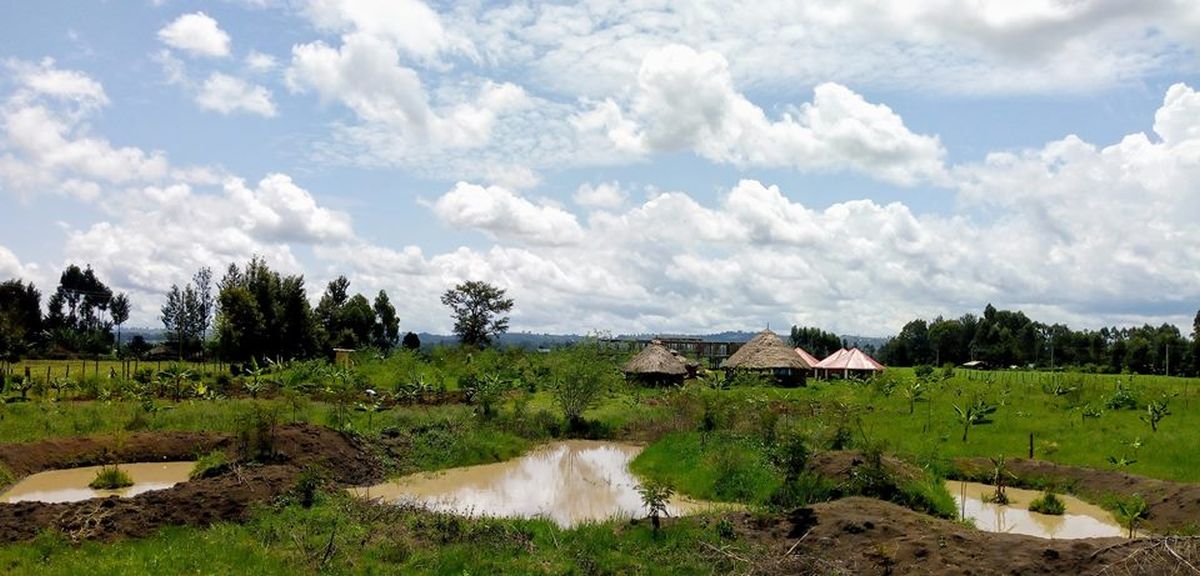 Sabwani Garden/Upendo garden
The garden has a size of 10 hectare. Sabwani garden is located near the river Sabwani. Upendo is the Swahili word for "Love". Sometimes you may find also the name "Upendo garden".

In Sabwani garden, a peace village with conference centre is being built, which will be used as a permaculture school for Kenya and East Africa.
Huts
The first thing OTEPIC did, was building huts in traditional round shape. Grass is used as roofing material. The first hut, the "Peace Hut", has been built with recycled plastic, former waste. We count four huts on the property right now.
Tree planting
The second task was planting trees.
Harvest
We already got the first harvest in Sabwani Garden.
Birth houses
Three birth houses are currently under construction. In the future we can offer the community a place for affordable and hygienic births.
Pond
In 2016 we digged a pond. We rammed the clay soil in it, step by step, before and during the rainy season and meanwhile the pond keeps the water. In the future we will grow fish in there.
Clean and renewable funded drinking water
The borehole of the groundwater pumping system is 100m deep. The water pump is powered by photovoltaic modules.
The water is used for watering the garden and supplying the peace village. Furthermore, people living in the surrounding villages receive clean drinking water – free of charge.
Brick machine
We do produce our own bricks. They are made out of clay soil mixed with concrete and chalk. The bricks then dry in the sun.
Swales
Nearby the pond we digged into the clay soil for creating swales. They are holding the water and releasing it to the roots of the plants.
Compost toilet
We are collecting the human excrements in the compost toilet. After a while they can be used as "garden gold" for non food plants and trees.
Clay oven
We have built a clay oven in our kitchen hut. Now we can bake our own bread, pizza, cookies and cakes e.g.
Kon-Tiki
With the Kon-Tiki earth oven we can produce charcoal. Charcoal can be used in many ways. For natural fertilization (in combination with "garden gold"), for cooking, for a natural fridge and so on.

Location