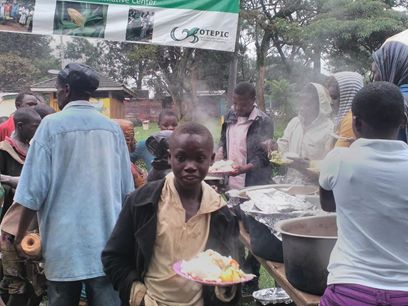 Hello, in the last post we talked about an interview with on of the kids who live in the streets of kitale town. Here it is!
Interview with the street children Richard (15)
Street children is a term for children experiencing homeless, who are living on the streets of a city, town, or village. Homeless youth are often called street kids and street youth;
Some street children, most of the children in the street are usually like thrown away children,or have been forced to leave home. Thrown-away children are more likely to come from single parents or no parents homes. Street children are often subject to abuse, neglect, exploitation, or, in extreme cases, murder , such children are sometimes treated as criminals or beggars.
Janus Petznik and I happen to have met a Richard….. a very smart boy , several times begging in the street , in one time Janus gave him food, our contact got even more stronger whenever we see him in town
And after OTEPIC organized the street feeding programs, Richard came and we managed also to book an interview with him on how life is living in the street of Kitale.
Tell us something about yourself?
I was born in Mt Elgon region of western Kenya,i have a sister who is married in Kissi town, she lives with my mother, my father past away when I was young.
Where do you live?
I live and sleep in town
How is life in town?
Difficult!, its very cold at night, difficult to find food, many beatings from the security police, a lot of bullying from older homeless people, no cloths to change hence if you wear clothes for longer time insect start living in your clothes, no water for shower and even sometimes for drinking, when you wake up in the morning, you will never know if you can find food, we go angry the whole day, sometimes if asleep somebody can come and beat you up, no place for sleeping sometimes bullying hence forced to go start up the fire for warmth, bullying from older street homeless taking money by force from the young ones, we have lots and lots of problem, that's why we don't want to see the reality hence we use glue to get high and forget all miseries.
Did you use glue?
Yes, but I stopped after started feeling really bad.
How?
It has lots of effect, feeling weakness on the knee, chest problem, I started spitting blood, most people using it start shaking and makes people nuts ,
no appetite ,glue makes you high and doesn't give s you the reality.
How much is the cost of the glue?
The glue Start from 10 shillings, for 10 shillings is enough to makes you high ,
We go and buy from a dealer, mostly people buy for 50 shillings to take them along the reasonable time,
If people get money from the street they will prefer to buy glue than food.
Does it make you numb?
Yes, even when you have injury you don't feel it, but after the glue is finished in the head you start feeling the pain.
Nowadays am always telling my friend to stop using glue, but there is a day I told an older friend to stop using the glue, but he kicked me very bad on the head and even I had wound in the head.
If police find you with glue does he take it away?
– some police can take it away, but some other police don't care
Where do you buy the glue?
At the climax bus stage, the older street guys buys them and they sell to us
There are several shops who order glue from the city Nairobi they came as a glue for making shoes but when it reaches in Kitale they sell to us to use.
How long could you feel the side effect of glue?
Around 3-5 months if you aren't eating but if you use glue and you eat it might take you one year to feel the effect, most of the kind even below 10 year use then after being taught from older street kids
Is there any NGO helping to talk about issue to do with the glue?
There was a woman who used to talk to us about glue and also gives us
Food Caren from Califonia, but since he flew back nobody talks about it
Since you live in the street, What do you think about your future?
Actually I don't know what will happen to me since nobody care about me , sometimes I depend to get the food from the garbage, sometimes our friends die after eating poisonous food for the rats from the garbage, the remaining family are really far, if I could get a chance to study and have a house I will be very happy.
How long did you live in the street and how old are you?
I live in the streets since 3 years, am now 15 years old.
What do you think of OTEPIC feeding project, that took place recently?
People really liked it, that day even people who always go to look for food in the garbage that day
they didn't scavenge in the garbage, because OTEPIC feeding program provided them with enough food.
It could be good if you could do it to us often, even twice a week will be awesome, like Friday and Sunday.
Any improvement?
Maybe if we organize the event we should try to separate older homeless and younger because they usually bully us a lot, and takes everthing. Also younger kids will be happy to be taken to the schools
Usually when somebody want to give us food, they always gives us next to police station so that when some older guys disturb they can be arrested, but we liked OTEPIC that they did it in the middle of town when you want to talk to us about some topic always introduce the topic after we finished then food comes.
How can we get more closer to younger children?
By Talking to them,I can also help to bring them along, you can meet them and have friendship with them.
Could you give us some general information about the drugs?
There are also many drugs in use here, mostly injection drug (Heroine), tatap ( a drug how let you sleep), marijuana, glue.
Sometimes they make glue tougher by mixing glue with petrol, kerosene so that if you use it it you get longer high.
I have talked with 5 people who have stopped using glue ,Before then they were very addicts and shaking a lot due to glue effect but now they are abet healthy,
Some drugs makes you do something's that you really don't know, like taptap is known to be the medicine for crazy people to cool them down, but nowadays it's a business you can even buy it in Apotheke easily its much available,and they sell it to younger ones.
Thanks for reading
Your OTEPIC TEAM
If your writing for an Newspaper agency or rung a Blog we would really happy if you publish this interview.