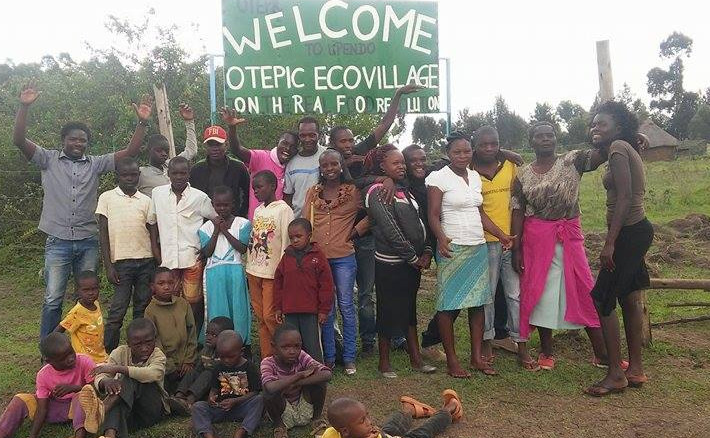 OTEPIC KENYA PROJECT: Celebrating 10 Years
Dear friends and supporters of OTEPIC Kenya peace project!
This year is a special year for us as we are celebrating 10 years of OTEPIC! From our humble beginnings on a tiny plot of land in the Mitume slum of Kitale, we couldn't have dreamed where we would be today:
Training for local communites in organic farming, Mitume Garden in a slum area of Kitale, Amani "Peace" Garden, Sabwani Garden and Ecovillage, Conference Centre and Permaculture School, Orphanage Tabasamu ("Smile") and a Dance Group.
If you would like to help us celebrate our birthday, we would be extremely grateful if you could donate some bricks for the future CONFERENCE CENTER as a birthday present!
We Need 10,000 Bricks à € 1 = € 10.000
In this newsletter we will take a look back at some of our biggest achievements over the last 10 years and share with you our vision for the future.
2008 – Philip returns after studying for 6 months in California, filled with new knowledge of biointensive growing method and driven with a passion to share it with his community. Using some money he saved from the stipend he got during his studies and some donations from friends, he bought a small plot of land within his community. He also rented a room for community trainings and youth work: OTEPIC Kenya project was born!
2010 – Philip made his first trip to Europe, spending 3 months in Tamera, Portugal. There he learned about peace education and also about Sepp Holzer's Permaculture. This left him filled with ideas about how he could implement such techniques in Kenya, especially relating to rainwater harvesting, renewable energy, regenerative food growing, and community building.
Because of the success of this trip, Philip will return to Europe every summer to further his learning and networking.
2012 – Since the project in Mitume was so well-received by the community and became so successful, we decided to try and share our knowledge with other communities. We decided to buy a plot of land in a community called biddi on the outskirts of Kitale and called it Amani Garden (Amani means peace in Swahili).
After meetings with the community, we identified their most pressing need: clean drinking water. So, in addition to starting a bio-intensive garden, a permaculture garden and a community training centre, we also dug a borehole, which is operated by a solar-power system. This supplies enough water for 3000 people, free of charge. All of this was made possible by some generous donations from our international friends.
2013 – During his trip through Europe, Philip learned about bio-gas production and also made friends with renewable energy experts. They came to visit the project in Kitale and to train Philip, his brother, and the youth involved with OTEPIC Kenya project on how to build, install, and maintain a bio-gas system.
They also shared their knowledge about rocket stoves and solar technology. Since then, all of our gas for cooking comes from this system. In 2013 we also built our multi-purpose community training hall, which is also serves as the house of our garden manager.
2015 After Amani Garden became successful so quickly, we realized that many more people could benefit from the knowledge that we were sharing. We decided that we wanted to grow even bigger so that our training could reach as many people as possible.
With the help of a friend from Peace Foundation we were able to buy a 10-hectare plot of land to begin to work on our new big vision. On this land we planned to build a multi-purpose training center, as well as other structures to support community needs, like a birthing house. We also dug a borehole on this land to first provide clean and free drinking water to the whole community of 3,800 people.
In 2015 we also held a Global Campus event where institutions and communities came together from across the globe such as Beyond Boundaries, USA, Tamera, Portugal, PII, Kenya, Scope, Malawi, and later Intercultural Peace Foundation, Germany/Portugal.
On this event we created a bigger vision of the land, while also doing council meetings, tree-planting and participating in Global Grace Day. During this time we also built a peace hut that could be used for initial meetings and training sessions whilst the conference center was under construction.
And to finish off the year, we were able to establish our Tabasamu ("smile" in Swahili) Children's Home for orphans and children whose families couldn't support them. All of the children at our home attend school full time and live a healthy, happy life. Since Philip was awarded a scholarship to attend school, he is very happy to be able to offer the same opportunity to other children.
2016 – In late 2016 construction of our conference/training center began and today the structure of the building is well under way.
Our vision for the center is that it can be used for intensive training programs about permaculture and peace education for people from all over East Africa, that it can house our international volunteers, that it can be rented for external conferences when not in use, and that it will be an eco-village where we can develop prototype systems to teach people about regional autonomy relating to water, food, energy, and community living.
Work on this site is going very well, in 2016 we finished our birthing house and we had already managed to turn this barren plot with poor soil into a thriving garden.
The OTEPIC Team and friends in front of the future Conference Center
In 2016 we also ran a very successful tree-planting program where we worked together with students and teachers in 3 schools to plant 15,000 trees within the school grounds and teach the students how to maintain them.
2017 – As well as continuing the construction of the conference/training centre, we constructed a compost toilet, started to dig a pond to harvest rainwater, and built swales to help the rainwater slow down and recharge the groundwater system.
We were also very proud to win the Hildur Jackson Exceptional Solution Award for the construction of our birthing house.
2018 – Although we are barely into 2018, we have already achieved a lot. With the help of some fantastic volunteers we launched our brand new website, check us out at www.otepic.org.
We are also delighted to be on the shortlist for the LUSH Spring Award. If that wasn't enough, we have developed a long-term solution for the water and energy for our training centre, with the help of experts in these fields.
We have started using kontiki for preparing terra pretta/biochar for a soil regenerating system. And we have finished making our clay oven for baking bread.
As you can see, we have come a very long way since we first began!
When we first started out – if someone told us that in 10 years time we would have 3 thriving gardens and would be in the middle of building a training center – we wouldn't have believed it could be true.
Yet here we are and we are so proud of how far we have come and so thankful for all of the help that wehave received along the way to help us make our dreams a reality.
THE FUTURE. As we look forward to the future, we know that we are likely to always rely on grants and donations to some extent but to make our work more sustainable, we are working on strategies to generate an income of our own.
One of the ideas to do this, is through the conference/training center. We also plan on selling organic produce from our permaculture and forest gardens and offer food and coffee in a farm to table business.

We are proud to share our achievements from the past 10 years and we are so thankful for all the help and support we have received over the years to make all our work possible.
This whole experience has taught us to dare to dream big as the seemingly unachievable can be achieved. Thank you again to all our friends and supporters!
We will continue to dream big with the hope that these dreams can become reality!
Asante Sana from Philip and the OTEPIC team!
Copyright © 2018 OTEPIC

Organic Technology Extension and Promotion of Initiative Center, Kitale, Kenya

All rights reserved